Digital Invitations
News
Just upgraded to Adobe CS3. Now using Premire Pro, Photoshop, Ultra and others

Also currently using an arsenal of professional level video editing, designing and authoring software like Sony Vegas and other top software to make your digital video design more fun and exciting.
Page Under Construction



Home Page
Welcome to the new site for your Digital Event Invitations !!
We provide all forms of digital editing and enhancement from home movies to big wedding party invitations. Any event you wish to invite people to attend, you can ues the Digital Event Invitation to inform your selected guests about the event, the location and provide maps, interactive Yahoo or Google maps, photos of the event location, other selected photos or video clips about the event or about the location of the event.
All your event information is recorded on a small, easy to carry or mail, 3 inch(8cm) DVD disk .
Compare Standard DVD to MiniDVD .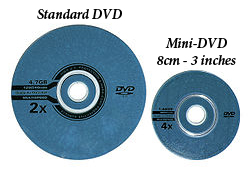 These small (Mini) DVD hold 1.4GB of information, which allows your Digital Event Invitation and all information you wish to convey to your perspective guests to be transferred to this small disk and give your guests a sufficiently long invitation to the desired event.
Engagements & Weddings
This type of invitation for an engagement party or Wedding would be a unique and interesting way to invite your guests to your special scheduled event. You can make the invitation as generic or as personal as you want them to be.
Quincineras
On the 15th or 16th birthday of your daughter you would like to invite everyone that matters toyour familyto this huge occassion. What better way to send invitations to your friends and your daughter's friends than the latest in digital video technology that will dazzle and impress your daughters friends as well as the family friends. Digital invitations are the next generation of event invitations, so why not use them to begin your daughters new stage of life - growing from a child to a young woman.